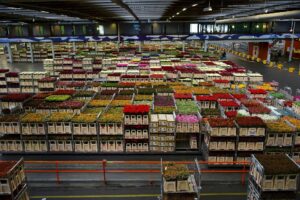 If you are running a business that requires you to fulfill orders, you need to consider whether you need a warehouse or an order fulfillment center. They're both often confused and yet are used differently, with both providing different services.
What Is A Warehouse?
A warehouse is a large space that can hold your business inventory, and they have space for forklifts and large containers. There are large shelves that stack to the ceiling to hold large quantities of products, too. Warehouses are usually used by businesses that require wholesale orders and need somewhere to stock their products.
What Is A Fulfillment Center?
Fulfillment centers are the places a third-party logistics provider will complete order fulfillment for customers. It allows a business to get its customer orders out as soon as possible, and they exist to relieve eCommerce businesses of dealing with the process.
Their operations can ensure that your order gets from the fulfillment center to your customer doorstep, with the products stored here in preparation for an order. Once the purchase is complete, the product is packed into boxes and shipped on to the customer. Order fulfillment centers deal with business to business customers and business to customer orders, too, which go directly to the consumer. ShipJoy is an eCommerce fulfillment center operating over 350,000 square feet of warehousing space.
If you choose to outsource to a third-party logistics provider, you can find managing your inventory easier, your customer service greatly improved, and you can save your business time.
What Are The Key Differences?
There are some critical differences between warehouses and order fulfillment centers, and some of those include:
Order fulfillment centers are designed for a fast turnover, where warehouses are to store products for longer.

Order fulfillment centers are continually moving products out to customers. They're complex, dealing with receiving inventory, picking list generation, product picking, packing boxes, labeling shipments, managing returns, and more. Operations in a warehouse are different, where inventory moves in and out without much else occurring.

An order fulfillment center can have relationships with different carriers, but warehouses deal with pickups spaced further apart and mostly use pallets and individual shipping labels.
Why Use A Fulfillment Center?
There are plenty of reasons that you should use an order fulfillment center, and some of the most popular ones include:
You no longer need to store inventory or pack boxes yourself, which is excellent if you are looking to save yourself time.

You get to pass over the packing and shipping part of the equation and focus on areas of your business that truly matter – such as customer development and retention.

If you're unsure about the order fulfillment process, you can leave it to the experts to worry about the logistics!

Introducing automation to your business can keep technology at the center of your order fulfillment services, making life easier for your customers.
Contact ShipJoy
Managing your business inventory and fulfilling orders is vital for your business. Contact ShipJoy today, and let's see how we can help you!