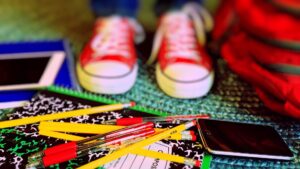 We're all reaching the end of the summer and, to many school districts across the country, that means it is time to think about the kids heading back to school. While for most families this means preparing for the school routine,. It means something entirely different from retailers and business owners. The parents might be happy to see the kids back in school, while business owners are happy about those back-to-school sales.
Back To School Season
Outside of the holiday season towards the end of the year, back to school is the most lucrative period of the year according to the majority of retailers, both online and offline. Back to school spending is not only at one of the highest points in the year, but it has also been on a year-on-year increase lately. Whether your business is based in brick and mortar or in e-commerce, back to school is likely to see you shifting more goods. However, those additional sales comes a need for better order fulfillment.
The back to school season affects both physical storefronts as well as digital stores. However, while it's not clear which channel benefits the most, it is certainly clear that both kinds of businesses are likely to find their order fulfillment systems experiencing a great volume of orders than ever before. Online businesses need to streamline the delivery of goods more than ever to ensure a bottleneck doesn't result in decreasing customer satisfaction. Brick and mortar stores need to keep their supply chains as well maintained as possible to ensure that their shelves don't start running empty.
This peak period, much like the holiday season, piles a lot more pressure on top of retailers, whether online or offline. Whatever delivery options you offer, they are likely to be strained by the sheer number of orders coming in. However, if you offer same-day or next-day deliveries and pickups, then you have an even greater need to adopt order fulfillment tools like Shipjoy to make sure you can keep your promises and meet the school deadlines at the end of the summer.
Keep Operations Streamlined
Whether you're looking at streamlining deliveries directly to the customer, deliveries to your stores or pick-up options for click & collect storefronts, order fulfillment solutions like Shipjoy can ensure the control and security that you need. This can be done, for instance, by automating the process of routing, more transparent and effective scheduling, and finding the most efficient routes for any delivery vehicles your business operates.
eCommerce Specialists
Shipjoy is one order fulfillment solution that is specially designed to help e-commerce brands with a range of services such as retail fulfillment, multichannel e-commerce fulfillment, and more. It can help reduce shipping and operating costs while making sure you meet additional demands of a peak season without worrying about slipping deadlines.
Learn more about Shipjoy and how the various features of our different order fulfillment solutions can help you cope with the back to school season this summer.