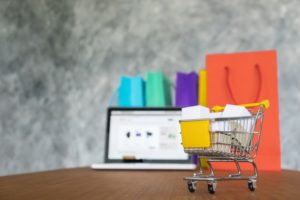 The Internet has opened up incredible opportunities for starting an eCommerce business. Entrepreneurs around the world are able to do this from the comfort of their own home, or via a laptop while traveling the world.
Unfortunately, 96% of all companies (no matter what industry) fail over 10 years. Keep that in mind when you build the infrastructure of your brand–there is far more to successfully running an eCommerce business than there is in starting an eCommerce business.
In this post, we are going to take a look at some of the key steps that you should take when you are starting an eCommerce business. 
What Platform Should You Choose When Starting an eCommerce Business?
The leading eCommerce platform – Shopify – is host to more than 500,000 active stores. This is just one avenue for selling online today. You also have more than five million individuals and businesses selling products on Amazon. Other options include eBay, WooCommerce, and dozens of smaller 3rd party eCommerce partners. Globally, the eCommerce market is over $3 Trillion per year!
When you take these numbers and options into account, it's easy to see why more and more people are selling products via the web today. 
While you cannot guarantee success, there are a number of things you can do in order to put the odds in your favor. 
Determine why you are starting an eCommerce business to begin with – There is only one place to begin, and this is with your reasons for starting an eCommerce business. A lot of people do not sit down and think about why this is the best option for them. In fact, too often they form their idea and then charge off without seeing the long-term impact of their decisions. If you're thinking of starting an eCommerce business just because you don't like your job, that  is not a good enough reason! Some other reasons that aren't compelling enough include because you want to be rich and famous and you think that the Internet is the easiest and fastest way to make money – for most people, it's not! Other reasons that aren't good enough include because you want to follow what is trendy or because you want to brag to your family and friends. It is important to recognize that starting a company is one of the biggest commitments anyone can make, which is why it is critical to ensure you are doing it for the correct reasons. If you are not, you are going to struggle to find the passion and motivation that is required to see through your vision on the difficult days.
Is entrepreneurship right for you? This is the next question you need to ask yourself. There is a lot of discourse regarding whether entrepreneurs are made or born. In this case, your stance is not as critical as your capability to be truthful with yourself. Let's say you believe entrepreneurs are made, can you see yourself being the one who calls all of the shots? If you fall into the other camp, and you think entrepreneurs are born, do you think that you are a natural-born entrepreneur? Not everyone is cut out to be an entrepreneur, and there is nothing wrong with that. However, it is better to realize it soon, if this is not the right path for you before you invest your time and money into the business.
What are you going to sell?

 The next step is to find the best product to sell. If you are thinking about becoming an entrepreneur, don't look on Google to find the answer. There are many people who have searched "the best products to sell" or "the most profitable products" on Google. However, the best approach is to sell something you care about to people you care about. Find a cause to serve that you are passionate about if you are outsourcing the products. If you are going to make the items yourself, think about what you will enjoy making and what you can realistically make the best. One common error a lot of people make when starting out is overwhelming themselves with options. Start simple and then you can always expand your offerings once you feel more comfortable. 

What's Your Competition and Market? 

Next, you need to do a lot of research. You need to study the market so that you have a full understanding of it and you need to see what your competition is doing. There are a number of different things that need to be considered while you are researching starting an eCommerce business. This includes your primary demographic and who you are going to be selling to. You also need to think about where this demographic can be located. Which obscure online shops and Instagram hashtags is your demographic hiding in? You also need to determine what is going to incite your demographic's attention – what sort of things do they value? Other areas of research include figuring out your niche, whether it has any untapped potential, the big players in the market at the moment, as well as where they are going wrong and what they are getting right. You are going to be much better equipped to be a successful business owner if you understand what is around you.

Do you have a business plan?

 The final piece of the puzzle is to write an amazing business plan. A lot of people skip this stage because they simply don't like writing business plans. It does not matter whether you enjoy them or not, you need to have one! So, what should be included? You need to incorporate an executive summary, as well as an operational and organisational structure, product offerings, your strategy, a financial plan, and industry and market analysis. Of course, a business plan is not going to be anything without implementation. So, if you are not following through what you have written down, things are not going to change. Therefore, it is critical to take the time to put together an effective business plan, but it is just as important to make sure that you adhere to what you have written.

Establish your brand and get going – Now that you have done all of the background work, it is time to put the wheels in motion. You will need to register your company and pick a name for your store. After this, get the relevant licenses and permits you will need and locate the correct vendors. You then need to choose the right eCommerce platform for you and look into branding and marketing. This begins with creating a logo and then delving into different online marketing solutions. If you need a logo, Fiverr is a great place to find inexpensive graphic design talent. 
That gives you just about everything you need to know about creating a winning strategy for starting your eCommerce business. Now, when it comes to successfully running your eCommerce business, there's far more to it. Especially when it comes to the all-important need to quickly and accurately fulfill on your orders. 
If you're a young company, this might not be necessary yet. But if you're beginning to grow quickly and want to prepare, or you can feel the pressure building on inefficient systems, contact us today. Our eCommerce fulfillment experts have decades in the business and will help guide your business to success for years to come.
Image courtesy of trichardz.