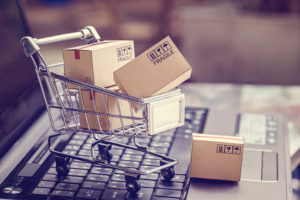 Whether you just had an idea that you would like to turn into a business or are planning to take your company online, today, the process is accessible to anybody. Of course, if you know where to start and what support you will need. That is where leveraging a third-party for eCommerce order fulfillment can help you achieve your goals.
Submitting products for ShipJoy warehousing
Create your products


Design your products and get them manufactured either in-house or through a third-party company.

Head over to ShipJoy and create an account


Requesting an order fulfillment quote and creating an account on our website is the first step in the process. It allows us to understand your business and product betters and check whether we are a suitable match for each other.

Submit an application


Then, you will need to submit a more comprehensive order fulfillment application. While it won't take long, we will ask for details regarding your product, how much storage you need, and how many orders you receive per month.

Pick the best pricing plan for your needs


Picking the best pricing plan for you is the next step. As this moment approaches, you can find all the information regarding our pricing and offers on this page. This overview allows you to get a glimpse of what to expect before submitting the applications. The price will vary depending on how many orders per month your company receives – the larger the order, the lower the cost per piece!

After approval, you can deliver your products to our warehouses.


Our experts will receive your inventory upon delivery in one of our warehouses.
What happens at the warehouse
Storage


Once in the warehouse, your order is organized in a dedicated area, stored in our systems, and shelved.

Streamlining the process


Here at ShipJoy, we leverage the latest, purpose-built technologies to integrate all of your sales channels – such as Amazon, Etsy, eBay, etc. – into a single system. This allows us to maximize shipping speed, simplify order fulfillment operations, and help you grow your business!

We focus on marketing!


Instead of just focusing on shipping your company's product, we do everything we can to help you grow your product. This is why, as the orders roll in – or even while we wait for the first one to arrive – we put our efforts into your marketing campaign. 
The shipping process
We pick the product in your inventory.


We are going to put the same care in selecting the right product for each customer as you would! Aside from ensuring that the product to be shipped matches the order, we check for eventual damages to ensure its quality.

We pack and label your products.


At ShipJoy, we know that each product needs different care and attention. That is why our order fulfillment team is composed only of expert technicians that will pack and label the items in your inventory professionally.

We make another customer happy!


After the products are packed and ready to be shipped, it is time to bring them to your customer's doorstep.  
At Shipjoy, our eCommerce order fulfillment experts are here to provide the guidance and technology you need to delight customers, maximize growth, and scale your business. Let us help you get started and provide the support you will need to turn your idea into a reality. Get in touch with one of our experts today!
What services do we offer
Multichannel eCommerce Order Fulfillment

Retail Order Fulfillment

Subscription Box Fulfillment

Crowdfunding Fulfillment

FBA Prep Services

Seller Fulfilled Prime