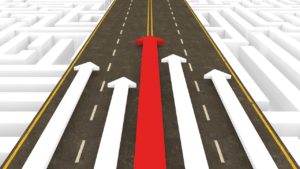 Amazon Prime is the standard-setter when it comes to timely e-commerce operations and order fulfillment. This started back in 2005 when Prime membership was first introduced. This membership option provided affordable one-day and overnight shipping, and free two-day shipping. 63% of U.S. shoppers now expect orders to be delivered within three days, according to a 2019 survey. 
Although Amazon is the clear leader when it comes to fast shipping, customer expectations are now rising when it comes to other retailers too. Meeting their demand for timely delivery is seen as one of the most difficult tasks in the supply chain, according to a recent MHI industry report. It's becoming increasingly difficult for retailers to live up to expectations when shipping to outlets as well as direct to consumers (DTC).
Companies are scrambling to come up with solutions to their e-commerce order fulfillment and logistics predicaments. With a focus on customer satisfaction and focus, here are four strategies to help your company meet these rising standards. 
1. Establish Micro-Fulfillment Centers (MFCs)
A greater number of small warehouses purposefully located in key areas can slash order fulfillment time. These MFCs don't have the same capacity as a large warehouse, but they can be more useful if your priority is to shorten delivery time. 
This approach takes strategic planning and can be expensive due to real estate costs.
2. Partner with Third-Party Logistics Providers (3PL)
If your company doesn't have the capacity to meet the shipping demands of customers, consider outsourcing delivery. Partnering with a 3PL provider helps streamline your shipping service. All aspects from product receiving and storage to picking and shipping are handled externally. 
Many 3PLs are continually improving their efficiency through automation, making them industry specialists. 
It helps to partner with a 3PL provider that has order fulfillment centers in key delivery areas for your business. 
3PLs are also useful if your warehouses are reaching capacity because of SKU expansion or the overall growth of your company. 
This approach can be cost-effective as it eliminates the need to invest in new properties. ShipJoy
3. Adjust Approach to Brick-and-Mortar Stores
E-commerce in the grocery sector is growing. Many retailers are adapting to this demand by increasing the number of products in fulfillment centers. This leveraging of stock means there are fewer items in-store, but it helps speed up and grow the e-commerce aspect of the business.
Leading companies in the grocery sector, such as Whole Foods, Walmart, Target, and Kroger, use this business model. It allows them to offer fast and efficient delivery. Sometimes as quickly as two-hours.
4. Commit to Automation
Investing in an automated e-commerce fulfillment center could be enabling your business for increased future profits. Automated FCs can be six times more efficient than traditional FCs.
Robotic technologies allow for high-density storage, meaning considerable space savings. With automation, scalability is key. The goal should be to have a system that can adjust based on demand. This helps to keep productivity high while costs are manageable. 
Speeding up your e-commerce order fulfillment time directly relates to business efficiency. Improvements give your business a significant competitive advantage. Consistently meeting customer expectations won't go unnoticed. This is a sure way to increase sales and to grow a loyal customer base.