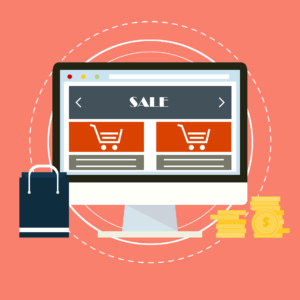 eCommerce businesses have a unique set of challenges to growth. In this blog post, we are going to take a look at eCommerce order fulfillment. Continue reading to discover everything you need to know about how to create a winning eCommerce fulfillment strategy.
What is eCommerce Order Fulfillment
This is the complete process of receiving, packaging, and delivering an order placed online to a consumer. Third-party order fulfillment providers (3PLs or third-party logistics companies) give online merchants the ability to outsource the fulfillment process, meaning they can focus on core company growth and not back-end activities. For online merchants to build consumer loyalty and be as competitive as possible, a successful order fulfillment strategy is a necessity. 
How to create your order fulfillment strategy:
When it comes to eCommerce order fulfillment, there is no such thing as a one-size-fits-all. There are a number of different factors that need to be considered. This includes the following:
The size of your business and order volume – there are a number of different factors that need to be considered here. This includes how many orders you ship each month, as well as how many SKUs your company offers. You also need to try and forecast how many orders you will ship next month and next year. After all, your monthly order volume and the quantity of items you sell makes a huge difference when it comes to finding a solution that works for you. For instance, you may prefer to keep fulfillment in-house if you have a very limited number of orders. However, if your average order value is increasing and your company is growing at a quick pace, you will need to think about when is going to be the right moment to outsource order fulfillment. 

Sales channels and technology – Next, you need to think about your sales channels and technology. Think about where you are selling your items online. Do you sell via a marketplace, eCommerce site, or both? What sort of eCommerce platform are you using? These considerations are important because your fulfillment strategy needs to support and complement your online sales strategy. This is particularly the case when it comes to technology. Order fulfillment software that integrates with the online marketplaces and eCommerce platform you are using, then this will enable you to manage the full process of eCommerce order fulfillment more efficiently without needing the developer to do any work. This is especially critical should you be selling across multiple channels. Technology is not there to complicate the process of order fulfillment; it is there to streamline it. 

Location – The third factor you need to think about is the location of your consumer base. Are your customers spread across the country or are they centrally located in one region? What about your global consumer base? Where do you ship to? When putting together an eCommerce order fulfillment strategy, where you ship to and where you ship from are two critical factors. It is important to try and lower the number of shipping zones your typical package will travel through in order to ensure you can deliver on the expectations your customers have. This can lower both shipping times and costs, resulting in a happier consumer base. 

Customization requirements – Aside from the three factors that have been discussed, you also need to consider your customization needs. Is customization a critical selling point for your business? Are your items made to order? This is important because a more hands-on approach is usually going to be required if you sell items that are extremely fragile or custom-made and specially gift wrapped. 
Getting order fulfillment right at your business
It is important to understand that there are a number of different solutions when it comes to eCommerce order fulfillment. There is no right or wrong answer. It is all about assessing your company's needs and determining what is most appropriate at this moment in time. There are three main options that entrepreneurs tend to turn to today: dropshipping, merchant fulfillment, and outsourcing to a third-party fulfillment provider. 
Dropshipping – The first method we are going to take a look at, which is becoming increasingly popular today, is dropshipping. This is when the manufacturer produces, stores, and ships the inventory. This means you are not going to need to handle the products at any stage. A lot of people are opening dropshipping businesses today because there are minimal barriers to entry. It is worth noting that you will have virtually no control over the supply chain, though, so this is something that you need to consider carefully when deciding whether this is right for you. 
Merchant fulfillment – The second option is merchant fulfillment. This is also known as self-fulfillment or in-house fulfillment. This is when you complete everything relating to the fulfillment process yourself – fully in-house. This is the preferred choice of most when they are first starting out in the world of eCommerce. You will have more control when you go down this route. Nevertheless, there is no denying that this becomes more and more difficult as your company grows. 

Third-party fulfillment – Last but not least, we have third-party fulfillment. This is when you outsource all of your fulfillment requirements to an external business. This process can incorporate everything from returns management and order shipment to packing boxes and inventory management. If your business is growing quickly, and preparing to scale, this is the best option.
As you can see, there is a lot that needs to be considered when it comes to growing your eCommerce business and getting order fulfillment right. The vast majority of companies outsource order fulfillment today. There is no right or wrong answer though; it is all about figuring out what is going to be the most beneficial and efficient for your company at this moment in time. 
At ShipJoy we love working with online merchants of different shapes and sizes, schedule a free consultation with us today so we can show you exactly how we can make a difference for your business.