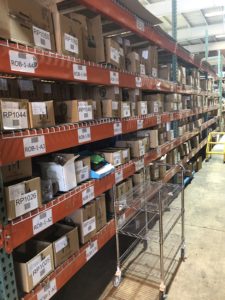 If you're planning to set up your own eCommerce venture, or you've been selling and storing products for some time, sooner or later, you'll have to consider a better way to store and ship your products to your customers. 
When you're just starting out, getting those first exciting orders, it makes sense to store and ship the orders yourself.  But as your eCommerce store will take off and you'll find it more and more difficult to keep up with the demands of sending out orders. 
This is when you need to consider third party warehousing.  
What Are The Benefits Of Using Warehousing? 
Flexibility – most third-party warehousing companies are extremely flexible with their terms and pricing. If your business is cyclical in nature, you can scale your needs accordingly at short notice.  
Lower staffing costs – you won't need to hire your own team to fulfill your orders.  You'll save on all of the extra costs that it involves and extra paperwork that being an employer needs. 
Greater efficiency – warehousing companies do what they do all day, every day.  They will be much faster and efficient than you could ever hope to be. 
Save money – you'll benefit from the great rates warehousing companies get with packaging manufacturers and couriers. 
When Should You Start Using A Third Party Warehousing Service
You may be ready to look at outsourcing your logistics if the following apply to your business. 
You're too busy to run your business – if you're spending all of your time packing and sending your items at the expense of other areas of your business, then it's time to look at warehousing.  
You're running out of room – if your entire house, garage and garden shed is filled with stock, you're going to need an alternative solution.  It's unsustainable in the long term. 
Your business is cyclical – if you do a large proportion of your business at a certain time of the year, you may not want to arrange your own storage and seasonal staffing.
Choosing A Third Party Warehousing Partner
Whoever you choose will act as an extension of your business in the eyes of your customers.  So you need to choose wisely.
Get a recommendation – ask other people in the business who they would recommend. If you don't know who to ask, find a Facebook or LinkedIn group that you can ask.  
Do they have similar clients – many companies will specialize in certain types of clients. Find one that has clients similar to you. 
Can they process refunds as well? – in order to keep the entire process as smooth as possible, find a partner that can handle refunds and returns as well.  
Don't just base your decision on price – it's tempting to go for the cheapest option, especially when cash flow is tight, but making the wrong choice could cost you much more.  Unhappy customers won't buy from you again and are likely to leave you bad reviews online. Since most people won't differentiate you from your fulfillment partner, your reputation will suffer at the hands of their bad service. 
For more information on third party warehousing contact ShipJoy today.